Kids' snow boots must be specifically designed to provide maximum warmth, comfort, and safety while tackling the unique challenges of cold weather. The technical aspects of designing a kids' snow boot line involve many elements such as
1. Insulation choices
2. Sole design considerations
3. Waterproofing solutions
4. Assembling methods to achieve the perfect fit
5. Orthotic support technology for reducing pain and pressure on feet
6. Heat and moisture management to ensure comfort and performance
7. Reflective details in design
8. Easy slip-on and off
9. Other factors such as style and color options
For maximum protection against extreme cold weather conditions, it is important that these elements are carefully considered when designing a kids' snow boot line.
In this blog, we will discuss the key design considerations that an experienced kids' shoe manufacturer needs to take into account when designing a line of kids' winter girls snow boots.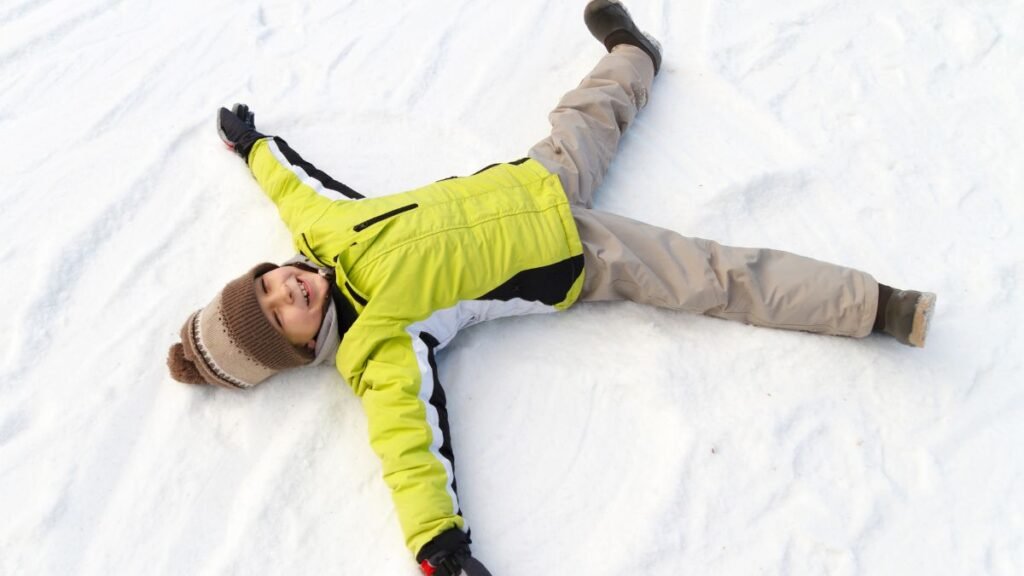 1. Insulation choices
First, insulation choices must be made that provide adequate warmth and protection against cold temperatures.
There are a number of insulation choices available for kids' winter snow boots now.
These include synthetic options such as Primaloft, Thinsulate, and Thermolite, as well as natural options like down, wool, and cotton.
Each has its own set of benefits, so it is important to consider the needs and preferences of your child when choosing the right insulation material for their winter boots.
Primaloft
Primaloft is a lightweight, compressible synthetic material that provides superior warmth and performance in both wet and dry conditions.
It also maintains its insulating properties even when the snow is wet, making it ideal for protection from snowy or sleet-filled winter days.
On top of that, Primaloft is anti-microbial which helps keep shoes odor-free.
3M™ Thinsulate™ Insulation
3M™ Thinsulate™ Insulation is another popular synthetic option that is designed to trap body heat while still allowing breathability and wicking away moisture.
It retains its ability to insulate even when wet – so kids won't be exposed to cold temperatures due to standing in slushy puddles or playing in the snow.
Thermolite®
Thermolite® is another high-performance insulation choice that provides excellent warmth with minimal bulk – perfect for younger kids who don't want too much weight on their feet when they're busy running around outside!
Finally, natural materials such as down, wool, or cotton can also be used in the best winter boots around, offering great comfort and breathability along with reliable insulation capabilities.
No matter what type of insulation you choose for your child's winter boots – make sure it provides ample protection for little toes from cold temperatures without sacrificing either comfort or performance!
2. Sole design considerations
The sole of a snow boot must be designed to provide the right amount of grip and flexibility while also providing warmth and protection from water penetration.
Tread patterns can be used to provide extra traction on icy surfaces, while materials like Vibram are known for their durability in cold temperatures.
It is important to consider the environment where the boots will be used when selecting soles for maximum performance.
For example, a deep tread pattern may be necessary for winter boots used in areas with more snow and ice, while a smoother and less aggressive pattern may be ideal for winter boots being worn on slushy or wet surfaces.
Rubber soles are also popular when it comes to kids' winter boots, as they provide added shock absorption and cushioning which is important for their growing feet.
3. Waterproofing solutions
In order to make sure kids' winter boots stay warm and dry in wet and icy conditions too, waterproofing solutions must be incorporated into the design.
Non-wicking treatment
The first option is non-wicking treatments – which provide an outer coating for the boots that repels water and moisture while still allowing airflow.
These treatments are usually affordable and easy to apply, making them great for parents who want to keep their child's winter boots and feet dry, without having to invest too much time or money.
Waterproof membrane
The second option is Waterproof membranes such as Gore-Tex and Sympatex provide excellent protection from the elements while still allowing breathability and temperature control.

These membranes are made up of tiny pores that are small enough to block water droplets from entering, but big enough to let moisture escape – helping to keep feet dry and comfortable during longer periods of outdoor play.
Not only are these membranes extremely effective in keeping snow, sleet, and rain at bay, but they also provide good insulation even against cold temperatures due to their construction which helps trap body heat without adding bulk or weight.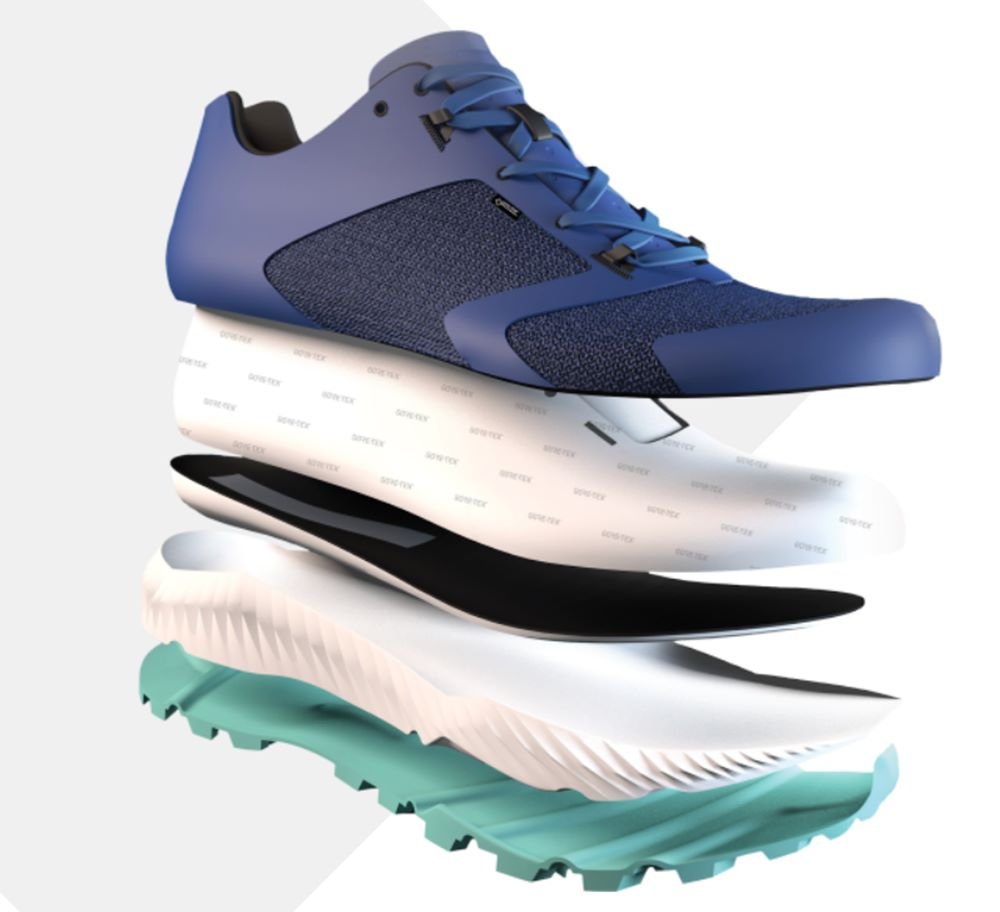 Moreover, waterproof membranes used in kids' shoes feature durable fabrics that resist abrasion and tearing – great for adventuresome young ones who tend to be hard on their footwear!
With proper care and maintenance, these waterproofing solutions can last for long periods and multiple seasons – providing reliable protection against the elements even when exposed to long hours of wear or harsh weather conditions.
4. Assembling methods to achieve the perfect fit
Attaching the upper part of the shoe around the sole is an important step in creating a secure fit for kids' boots. Different methods can be used to achieve this, such as cementing, direct injection process, vulcanizing, and Goodyear stitching.
DIP Process
The direct injection process is a machine-based technique used to attach the upper part of the shoe to the sole. It involves injecting an adhesive material into a mold that has been custom-made to fit the exact shape of the boot.
Once injected, pressure and heat are applied to create an extremely strong bond between the two parts. This process provides a secure fit and helps keep kids safe while playing in cold weather or wet conditions.
Cementing Process
Cementing is a manual process that involves gluing or welding the upper part of the shoe to the sole with an adhesive material.
This method offers a secure fit and can be used for both small- and large-scale production.
The glue or cement needs to be applied evenly and carefully around the entire circumference of the shoe, making sure it is firmly attached at all points.
After drying, more glue may need to be added in areas where initial bonding was not successful.
As a final step, often a heat source is used to strengthen the adhesive bond between the sole and the upper.
Vulcanizing Process
The vulcanizing process is a machine-based technique that uses heat and pressure to create an extremely strong bond between the upper part of the shoe and the sole.
It involves placing a custom-made mould into a vulcanizing machine, which applies pressure and heat to melt rubber or other synthetic materials in order to attach the two parts together.
This method creates a secure fit and provides excellent protection against wear and tear, making it suitable for all kinds of footwear.
The Direct Injection Process is a superior choice for cementing and vulcanizing because it offers a more cost-effective and efficient production method.
The process uses automated machines to inject a special liquid polymer into the sole of the shoe, hardening it and forming an extremely strong bond between the upper part of the shoe and the sole.
This method provides high-quality results with fewer defects than other methods, while also requiring less labor and materials.
Additionally, direct injection can be used for mass production, making it ideal for larger-scale operations.
5. Orthotic support technology
Kids' snow boots are designed to provide comfort, support and protection for their little feet when playing in the snow, cold weather, or wet conditions.
To ensure this, it is important that the boots offer ample cushioning, arch support, and a secure fit that won't easily slip off of the foot.
Orthotic technologies can help achieve this by providing extra cushioning and reinforcing the sole construction with an additional layer of shock-absorbing materials.
Materials commonly used for orthotic support include foam, gel, rubber, and fabric.
Foam provides the highest level of cushioning and is lightweight for easy wear.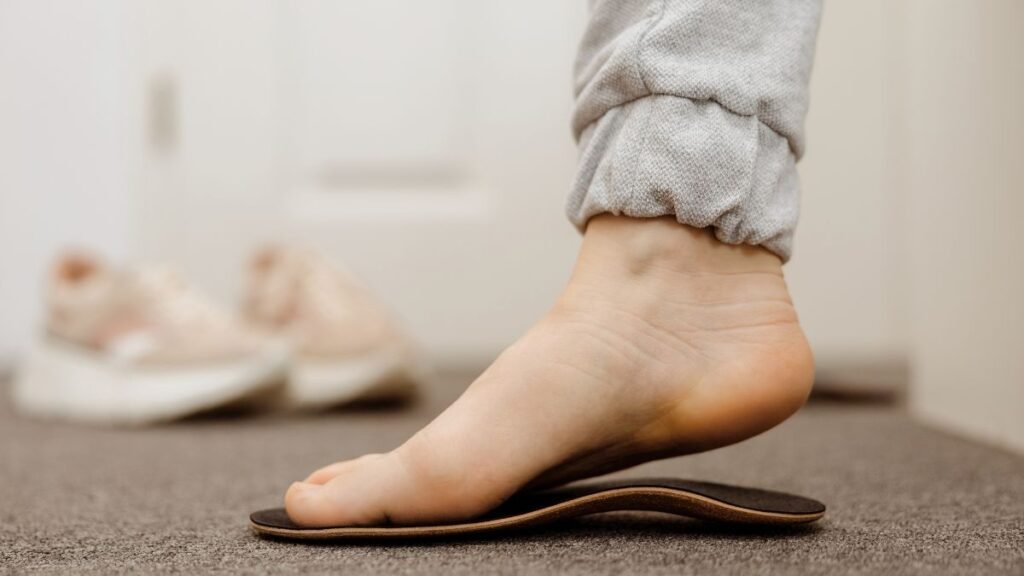 Gel insoles offer good shock absorption and stability, helping to prevent painful conditions like plantar fasciitis from developing.
Rubber offers superior durability and is often found in sports shoes.
Fabric orthotics provide a breathable layer that helps keep feet cool and dry while providing moderate levels of cushioning and arch support.
This helps reduce fatigue and keep kids' feet comfortable all day long while still providing necessary support against slippery surfaces, icy sidewalks, or rough terrain.
6. Heat and moisture management to ensure comfort and performance
Heat and moisture management in winter boots are essential for keeping feet comfortable in cold winter weather. High-quality kids' snow boots feature materials that wick away sweat, trap heat and allow air around cold toes to circulate freely.
For example, some boots feature a waterproof membrane layer with tiny perforations that allow small amounts of air to pass through while still providing excellent insulation from cold temperatures outdoors.
Moisture-wicking liners made from synthetic fabrics work by quickly absorbing sweat and moisture from the skin, allowing it to evaporate before it builds up inside the shoe.
This helps keep your feet warm, dry and comfortable when playing in wet conditions or during extended periods of activity in colder climates.
7. Reflective details in design
Reflective details are a great addition to kids' snow boots design, as they help keep kids safe and visible during low-light conditions.
Details such as reflective stripes, logos and patterns can be incorporated into the boot's design to provide an extra layer of protection. In addition, reflective materials can be used on laces or buckle closures so that they are easier to spot in the dark.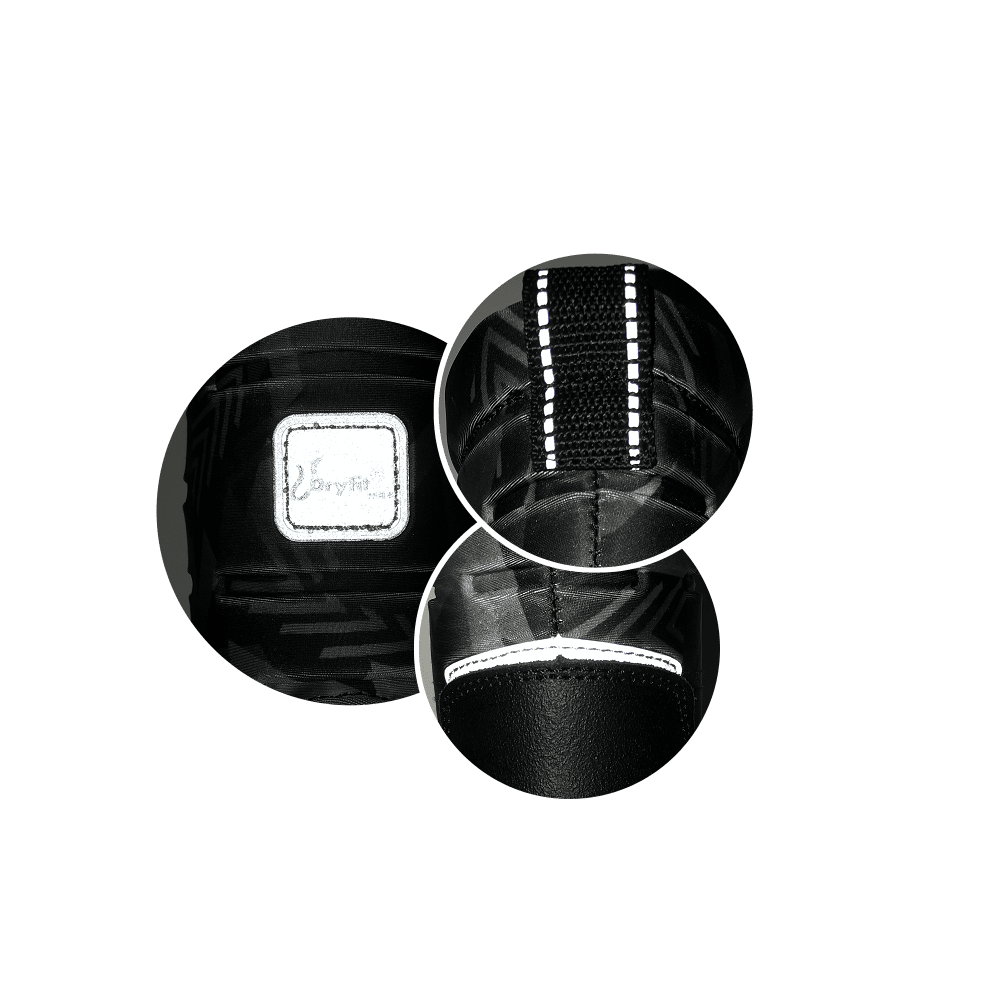 8. Easy slip-on and off
Easy slip-on and off design is for kids winter boots, also important for kids snow boots.
A drawstring toggle or adjustable strap can provide a snug fit for boots and make the boots easy to put on or take off without any hassle.
Alternately, elastic gussets can be added for flexibility and comfort, allowing for easy entry and exit of the winter boot.
With these features incorporated into the design, their children's snow boots will have no trouble fastening their kid's snow boots, even when wearing mittens cotton socks, or gloves.
9. Other factors such as style and color options
Special attention should be paid to style and color options when it comes to kids' snow boots in order to make them both fashionable and functional.
Fun colors and prints such as animals, flowers, or cartoon characters can make the boots look stylish while still being practical for outdoor activities.
Additionally, careful consideration of materials used in the winter hiking boot will help ensure a great winter boot with a comfortable fit and weather resistance for all kinds of winter conditions.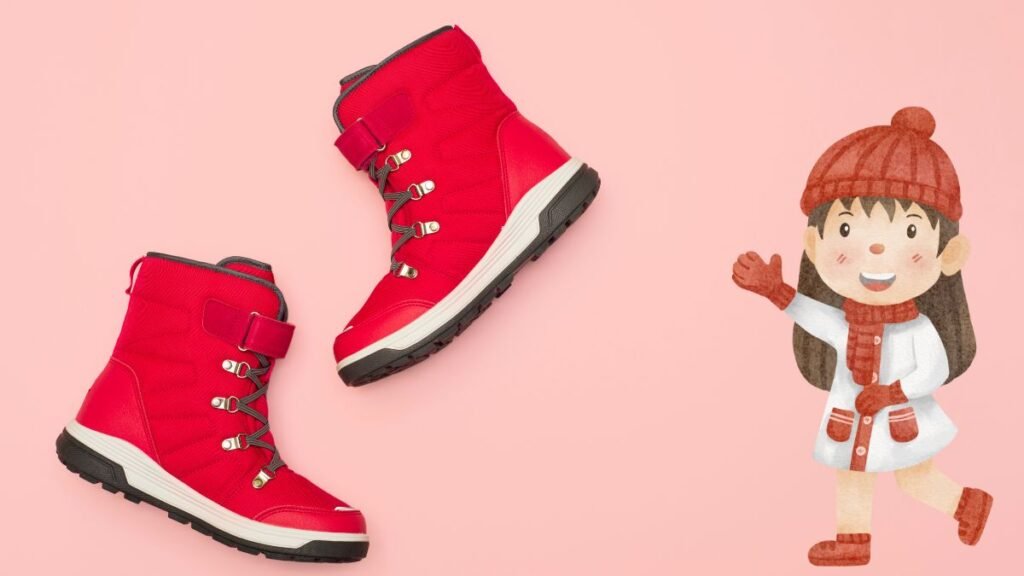 Conclusion
In conclusion, the right kids snow boots will help ensure that children remain comfortable and safe in cold weather.
When selecting a quality pair of winter boots, it is important to consider factors such as insulation choices, sole design considerations, waterproofing solutions, lasting methods for achieving the perfect fit, and orthotic support technology.
Heat and moisture management should also be considered when choosing the best kids snow boots, to maximize comfort and performance.
Style and color options can help make one pair the boots look fashionable while being practical for outdoor activities.
Lastly, easy slip-on and off designs with adjustable straps or elastic gussets can provide a snug fit for toddler snow boots without any hassle. By taking all these elements into consideration, parents can find the perfect pair of toddler snow boots for their little ones!