Drive Sustainable Milestone
We are a passionate company with the desire to produce comfortable children's shoes that not only helps to create a balanced healthy economy, but also is responsible when it comes to our impact on the environment.
That's why our Dryfitmax logo is green. 
Green means health, ecology, cleanliness, smaller carbon footprint, environmentally-friendly, sustainable planet. We hold ourselves accountable to these values.
Automatic efficiency and security are important to our production process.
Efficiency means we can produce the same output with less production energy and time, meaning we have a smaller carbon footprint.
We have the advanced DESMA 24 stations PU/PU/TPU injection machinery and automated production line. Roughing robots, transport robots and spray robots work on the whole line.
2000 pairs of shoes are manufactured by only 20 people per day.
Furthermore, we use direct soling with PU (polyurethane) without the use of adhesives, which are quickly molded into soles in a few seconds. This is highly automated and enables the minimization of the negative environmental impacts while conserving energy and natural resources.
We believe it is possible to design kid`s fashion that respects the planet, with the approach of slow fashion.
Slow fashion is holistic and considers the whole product life cycle, valuing quality over quantity to produce children's shoes that can last years.
Our designers look at the connection between things—raw materials property, the tech process, and the minimum unnecessary waste, etc.
So our children`s shoes are thoughtfully designed for minimalism balanced between durability & functionality to have a low environmental impact.
We are constantly adopting high-performance, durable, skin-friendly material, but also innovative up-cycling materials.
The chrome-free and metal-free tanned, super-soft leather is very supple and adapts perfectly to children's feet. We source our leather from an audited and certified supplier.
The lining is made of recycled PET textile blended with the breathable and quick-drying bio-based membrane.
The outsole is made from 100% hydrolysis-resistance polyether (PU) without adhesive glue, which offers superior material properties, like oil and fuel resistance, shock absorption, comfort, and flexibility.
Work the team, then the problem.
At Dryfitmax, we strive to offer our people good working conditions because we value every experienced, detailed, and skilled person. We cherish their passion and ambition while bringing our shared mission of helping everyone in their growth potential and the pursuit of better quality and environmentally-friendly shoes.
We also treat our suppliers fairly, they help us to improve outsourcing quality, ensure product safety and reduce any negative footprint.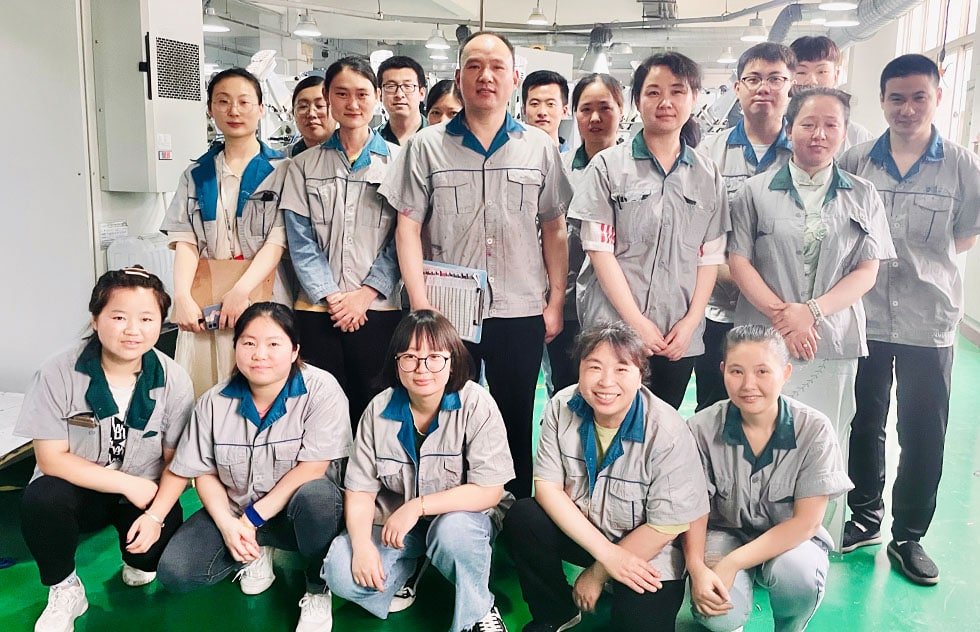 Sustainability is a condition for doing business and a process of continuous improvement.
Our sustainable processes cover everything from Design, Material, Production to the People.
We are looking forward to being your best sustainable support at every step.
To Make Your Eco Line More Sustainable!