As a kid's shoe brand or purchasing manager, you know the challenges that come with taking care of tiny toes.
Kids' feet are prone to issues with foot problems like blisters pain and discomfort if they're not wearing the right shoes or well-made shoes with top-quality materials.
To protect your child and the littlest patrons, it's essential to choose materials that keep their feet healthy and happy while keeping up with trends in fashion and comfort. In this blog post, we take a deep dive into what should be taken into consideration when selecting materials for creating children's footwear; from proper fit to durability– even sustainable practices!
Read on to learn how to ensure babies' little feet remain safe and comfy during everyday activities.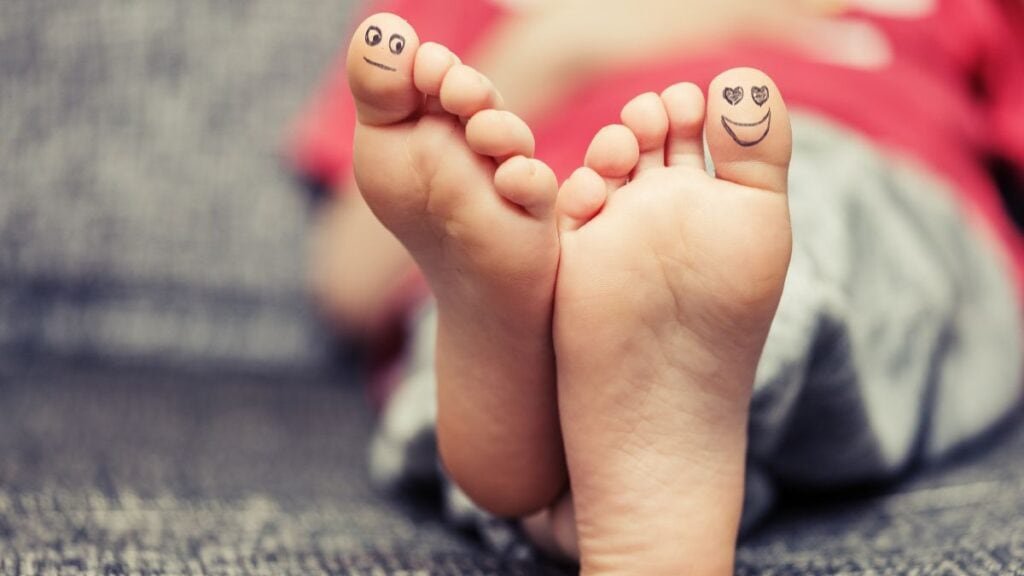 The right materials for kids shoes involve:
– Soft, breathable fabrics such as cotton and linen
– Natural materials like leather, jute, and cork
– Synthetic materials including rubber, EVA foam and PU
– Waterproof materials to protect against rain or snow
– Anti-bacterial lining to reduce odors
– Flexible soles for maximum heel comfort while walking
– Memory foam insoles to cushion feet
– Sustainable materials like recycled plastic or organic cotton
– Breathable mesh for added ventilation
– Reinforced toe caps to prevent injuries from sharp objects
I. The benefits of soft breathable fabrics for kids' shoes
When it comes to selecting materials that are best suited for kid's shoes, soft and breathable fabrics should be a top priority.
These fabrics are lightweight but also provide enough cushioning to keep kids' feet comfortable throughout the day.
Cotton, linen and canvas are popular materials for kids' shoes as they offer excellent breathability, durability, and flexibility that lasts long after the shoes have been worn out.
Additionally, these fabrics can be easily cleaned and maintained.
II. Natural materials like leather, jute, and cork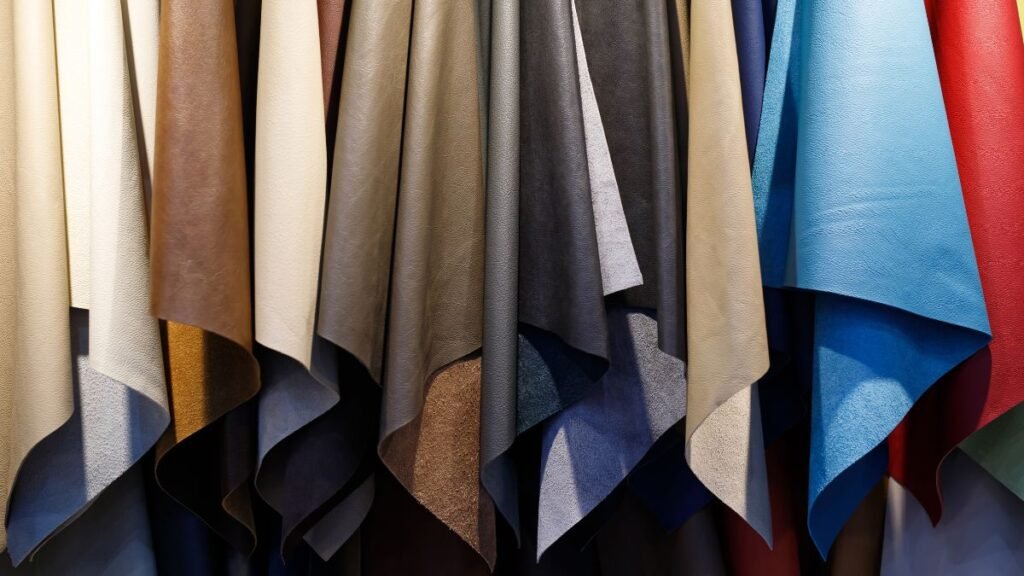 Natural materials like leather, jute, and cork are good for kids' shoes because they are soft and comfortable.
They help keep little kids feet healthy and cool and provide cushioning to keep them safe.
The materials also last a long time so the shoes will stay in good shape even after being worn a lot.
Leather is particularly durable and provides a good grip so kids can stay on their feet without slipping or sliding.
Jute, on the other hand, is lightweight and breathable and is often used to make sandals or slip-on shoes.
Cork is an eco-friendly material for footwear that helps keep feet cool in warm weather while also providing cushioning support.
III. Synthetic materials – Pros & Cons
Synthetic materials like rubber, EVA foam and PU are used to create lightweight and durable outsole components of shoes, that can withstand daily wear and tear.
Rubber is a popular outsole material for kids' shoes as it provides excellent traction, grip and durability. It is also waterproof, making it ideal for rainy or snowy days.
EVA foam is lightweight and flexible, allowing for maximum comfort even after long-term use.
Its cushioning properties can help protect against shocks and impacts from running or jumping around.
PU is a durable and waterproof material that offers abrasion resistance, which makes it ideal for active kids.
Other synthetic materials used for uppers like synthetic PU, microfiber and PU suede are also used as they offer a similar level of comfort, durability, and breathability.
However, compared with natural materials, these synthetic materials are not as breathable and can be vulnerable to wear and tear if not taken care of properly.
IV. Waterproof materials to protect against rain or snow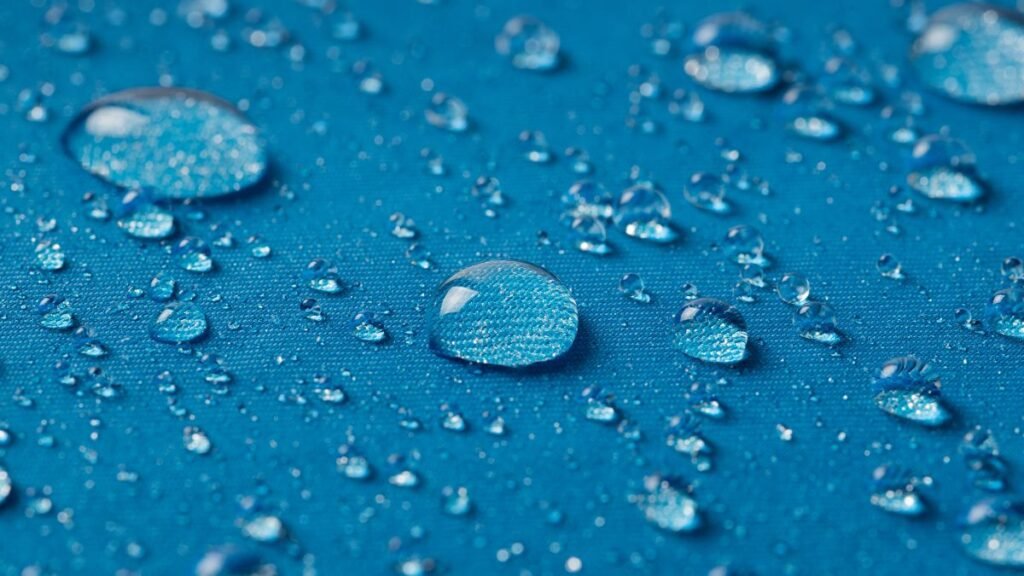 Rain and snow can damage shoes, and kids need footwear that can protect their feet from wet weather.
Waterproof materials like neoprene and synthetic rubber are particularly effective in keeping out water. For example, rubber boots and rain boots can help keep your children's feet dry while running or playing in the rain.
They also provide good insulation properties to keep children's feet growing and warm during cold days.
Other waterproof membranes such as Gore-Tex and eVent® are great for kids' waterproof shoes. They provide an extra layer of protection so that your child's feet stay warm and dry.
V. The benefits of anti-bacterial lining
Anti-bacterial lining is important for both foot health and keeping kids' feet dry and odor-free. It helps prevent bacteria from spreading and can help reduce the risk of bacterial infections often caused by dampness from sweat or water.
Synthetic materials like polyester, nylon, and spandex are often used to create anti-bacterial linings for shoes as they provide excellent moisture-wicking capabilities.
They also help reduce the growth of odors by controlling excess moisture while providing a comfortable fit.
VI. Memory foam insoles to cushion feet
Memory foam insoles are a great option for kids' shoes as they provide excellent cushioning and support.
The memory foam moulds to the shape of the feet, helping them stay comfortable throughout the day. Memory foam insoles help reduce foot and heel pain, from shock and impact when running, jumping or playing.
They also provide arch support for babies and growing feet and help to keep them in the correct position.
Overall, memory foam insoles are great for cushioning kids' feet while keeping them comfortable and supported.
VII. Sustainable materials for eco-friendly shoes
Sustainability is an important factor when selecting kids' shoes. Eco-friendly materials like organic cotton, jute, and cork are great options as they are biodegradable and renewable resources that can be grown without the use of pesticides or fertilizers.
And the recycled polyester and recycled rubber from shoes can be used to create eco-friendly insoles, uppers and outsoles.
By choosing sustainable materials, parents can ensure that foot care and their children's feet are properly taken care of while protecting the environment.
VIII. Reinforced toe caps to prevent injuries from sharp objects
Reinforced toe and heel caps are an important feature in most children's shoes as they provide extra protection to the toes.
The added reinforcement helps prevent injury from sharp objects or accidental stubbing of the toes. The plastic stiffer toe caps are most commonly used in kids' shoes as they provide extra durability and protection.
These toe caps help keep feet safe while also allowing them to move and walk more freely and naturally.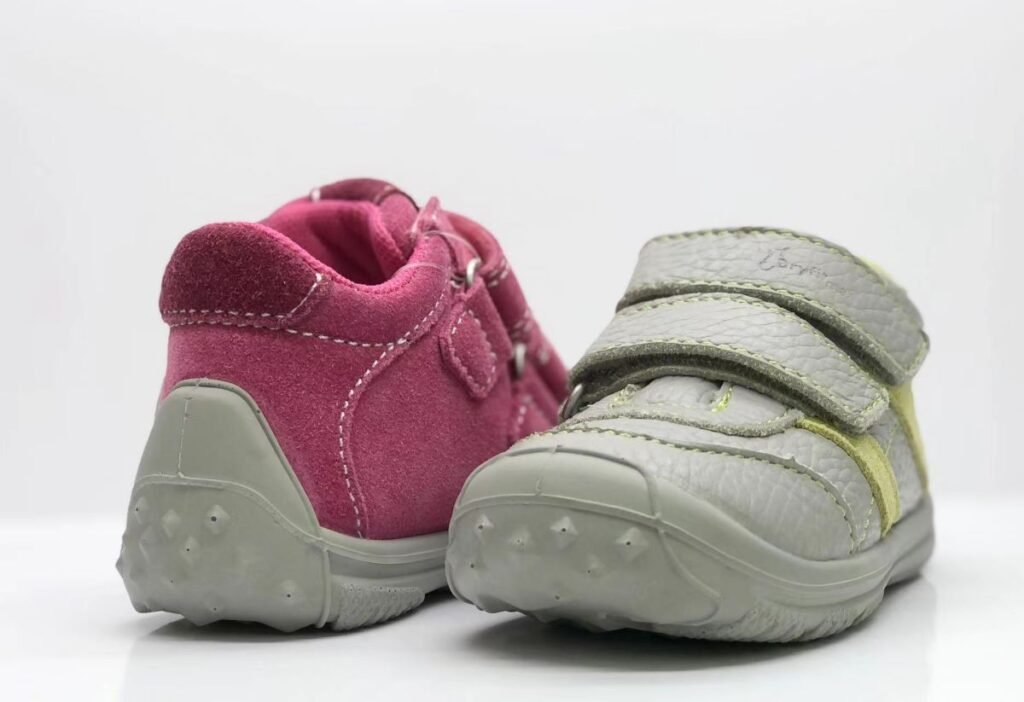 IX. Tips for ensuring a comfortable fit
No matter what material you choose for your kids' shoes, make sure that they have enough space in-toeing to move their toes freely. This will allow their feet to grow without feeling cramped or uncomfortable.
Getting the right fit is essential for kids' shoes. It is important to measure their feet before buying a pair of shoes, and parents should also consider the width of their child's feet or baby's foot as well as their age.
The right shoe size will keep little baby feet comfortable and reduce the risk of blisters or other types of issues due to ill-fitting shoes.
When parents buy shoes, they should also make sure to allow for some growing room as kids' feet tend to grow quickly and your child will need a larger shoe size sooner than early years later.
Additionally, be sure to opt for styles that have adjustable straps or lacing to ensure a secure fit.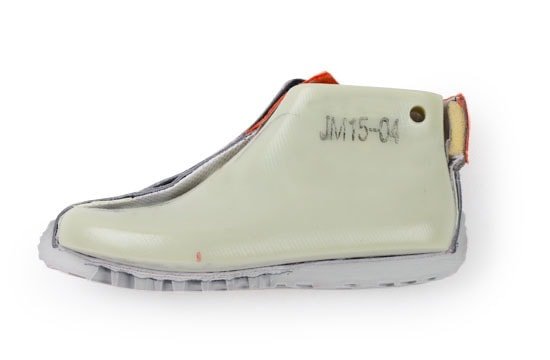 Conclusion
Kids and babies require shoes that are lightweight and comfortable since their feet and bones are still developing.
Soft and breathable fabrics like suede, nubuck leather, nylon, and canvas make for lighter shoes which help reduce the risk of injury or strain as kids run around.
The use of these materials also contributes to better air circulation, which keeps their feet cool when they spend long days outside in the summer heat.
Soft-sole shoes also enable a more natural foot development as the material flexes with their every step while offering just the right amount of cushioning and support.
Soft fabric kids' shoes offer an unparalleled level of walking comfort that helps keep kids feeling free, unburdened, and confident on their feet throughout the day.