As a B2B buyer of shoe brands, it is essential to understand the various construction methods used.
This article will explore the four most widely-used shoe manufacturing constructions:
Cementing Shoes Construction
Goodyear Welt Shoes Construction
Vulcanized Shoes Construction
Direct Injection Shoes Construction
Each method has unique characteristics and benefits, so understanding them is helpful for any business decision-maker.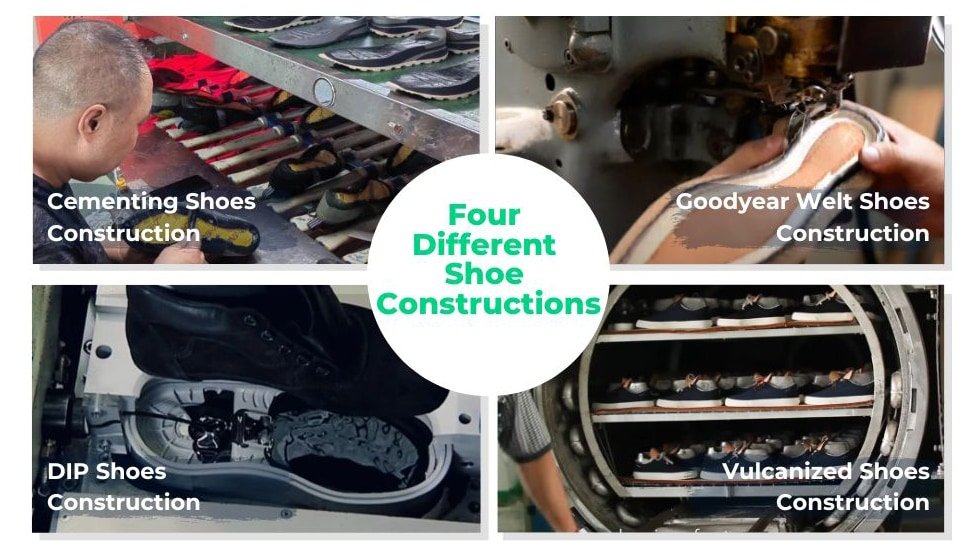 We'll delve into these processes in depth so you can understand different production techniques to make better-informed buying decisions.
Keep reading to learn more about each construction method and its features!
I. Some Common Terminologies In Shoe Construction
Understanding common terms and phrases used in shoe construction is essential when making the right purchase decisions. Here are some of the most commonly-used shoe construction terms: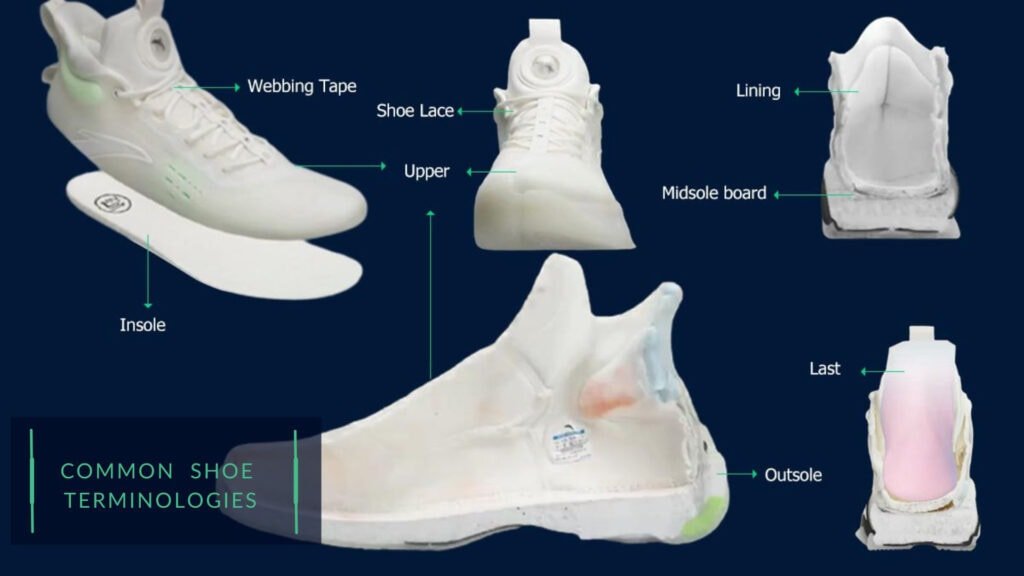 Upper – The upper part of a shoe is the body, constructed with multiple layers like leather, canvas or fabric, synthetic materials, etc.
Lining – This material is placed inside the upper of a shoe and provides comfort and breathability.
Insole – The individual component placed directly beneath the footbed cushions your feet while providing additional support. It's generally made from soft EVA, polyurethane, memory foam, or cork.
Last – This is an internal mold used to give shape to footwear during fabrication.
Midsole – The midsole is a separate layer located in the middle of the shoe between the upper and outsole. It can be solid woven fabrics and stiff boards, which enhance support and stability while providing cushioning and shock absorption. The materials used are typically light and thin.
Outsole – The outsole is typically the bottom portion of a shoe that comes into contact with the ground surface. It is the hard, protective layer on the bottom that provides cushioning, traction, and durability to the sole may be made from EVA, rubber (RB), polyurethane (PU), or thermoplastic polyurethane (TPU), or PVC (most buyers would not choose it).
Other Ornaments – Eyelet or Shoe Lace and other small details are essential for aesthetic appeal and practical support for your feet.
II. Types of Shoe Constructions
The term "shoe construction" refers to how a shoe is assembled.
The different types of shoe construction can make a big difference in the comfort, durability, and performance of your shoes.
In this blog, we discuss four main types of shoe constructions that are commonly used today: Cementing shoe construction; Goodyear Welt shoe construction; Vulcanized shoe construction; and Direct Injection shoe construction.
We explain how each type of shoe is constructed, their advantages and disadvantages, and how to distinguish them.
1. Cemented
Cementing shoe construction is the manufacturing method of attaching a shoe's upper to its outsole using adhesive.
A. How cementing shoes are constructed
The cementing shoes manufacturing process can be broken down into the following steps:
1) Preparation: prepare the finished shoe upper and size-matching last.
2) Lasting: Stitch or attach the midsole board with the upper.
3) Steaming: Hang the laced upper into the steaming machine to soften the upper.
4) Lasting: Insert the softened upper into the last, check the crookedness of the upper, and ensure there are no ankles or wrinkles on the upper.
5) Brushing the midsole: Brush the white latex adhesive in the midsole and put it into the 1st oven of the production for drying.
6) Marking outsole line: Put lasted upper on the outsole mold and draw a line on the upper body along the edge arc of the sole while making the appropriate fixing point and marking the sole position.
7) Treatment with chemical agent: Roughing, removing chips, and brushing chemical agent on the upper within the marking line & whole inner surfaces of the sole, to wash evenly without overflowing on the upper & sole before sending to the 2nd oven for drying.
8) Glueing: Brush adhesive after drying in the 2nd oven at the foot area of the shoe body according to the drawn line without exceeding the line; do the same on the top side of the sole without overflowing on the side wall or piling up glue, then send to the 3rd oven for drying.
9) Second Glueing: Brush adhesive again at the upper according to the glue line of the first area, not exceeding the first line; do the same on the top side of the sole without overflowing or piling up before sending it to the 4th oven for drying.
10) Attaching Sole: Take mutually paired lasted upper & sole out from the 4th oven; attach & align them with the marking line—pressure manually to join them together.
11) Pressing Sole: Put shoes in the sole pressing machine for mechanical pressing to strengthen adhesion.
12) Shaping Upper: Put shoes in the freezer box to stabilize the shape so they can be a better silhouette.
13) Untieing Laces & Pulling Out Last
14) Finishing & Packing
B. Advantages and disadvantages of this type of construction
The primary advantage of cementing shoes is that they are relatively inexpensive to produce due to the cost-effectiveness associated with adhesives compared to other processes like stitching or welting methods.
And many shoe manufacturers use this method to bulk-produce shoes due to its simplicity. The cemented shoes are very comfortable for daily activities and traveling Due to their lightweight.
However, cementing shoes are not as strong and durable as other types of construction, so they often have a shorter lifespan. Their limited support as compared to stitched styles they should not be used for strenuous activities or sports if possible. Because they may easily come apart if put under too much strain or tension during these activities.
C. How to identify Cemented shoe
Simply examining the soles will allow you to recognize such shoes. Inspect the sole's line to see any glue line in white or black or minor glue stains; otherwise, bingo.
2. Goodyear Welted shoe
Goodyear Welting is a shoe construction method that has been used for centuries and is renowned for its intensive process.
It is a time-consuming, intense, and highly robust method of producing high-quality shoes. Who created the technique? However, August Destroy is credited as the inventor (1862). After that, he handed the patent to James Hanan, who gave it to Charles Goodyear Jr.
Goodyear welt shoe construction: A leather strip known as the "welt," stitched around the Shoe and later to which the outsole is attached, is an integral component of a Goodyear welting.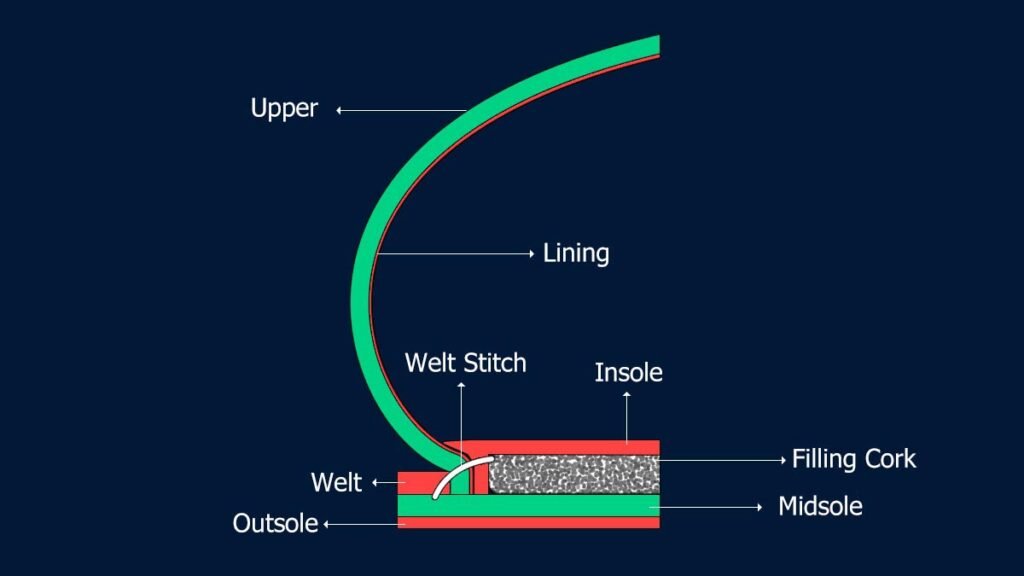 A. How Goodyear Welt shoes are constructed
1) Preparing: Prepare the finished leather upper and cut the insole for stitching.
2) Lasting: Construct the shoe with the last and midsole board.
3) Welting: Stitch the welt (normally the leather strip) around the shoes with a solid bold thread. (called Mark thread).
4) Add a wooden stalk and cork filling between the inner and outsole for durability and support.
5) Use hot irons to smooth the sole's edge, attaching a leather heel for additional trimming.
6) Finalize shoes with polishing wax and shines as desired.
7) Pack finished shoes for protection
B. Advantages and disadvantages of Goodyear welted shoe construction
Goodyear Welted shoes offer many advantages, such as durability, longevity, and comfort. Skilled artisans craft these shoes with water-resistant leather soles that can last up to 10 years with proper care. As the upper takes on the foot's shape over time, it provides an almost custom fit for maximum comfort.
Despite the many benefits of Goodyear Welted shoes, they aren't without drawbacks. These shoes tend to be more expensive than other types. Additionally, without proper maintenance and care, it can be challenging to repair or replace the heel and sole. Finally, there is an adjustment period when wearing Goodyear welted shoes, as the upper must soften to take on the shape of your foot before they become comfortable.
C. How to identify Goodyear Welt Shoes Construction?
Goodyear Welted shoes are easily identifiable by their two stitches: one on the inside of the shoe, where the upper edges meet, and a welt stitched around the outer sole.
The space between the outer sole and insole is filled with cork for insulation and comfort.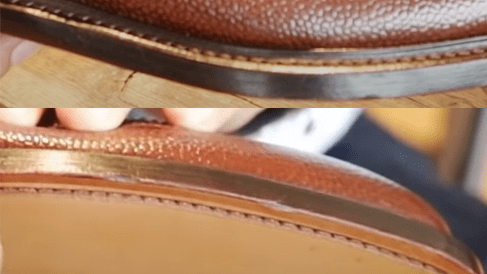 3. Direct Injection Shoe Construction
The direct injection process (DIP) is another method used in constructing a shoe.
In this process, the footwear upper, midsole, and outsole are molded together using a machine injecting molten materials at high pressure into the shoe's mold. This creates a unified footwear piece with no seams or stitched parts.
The main benefit of this type of construction is that it creates extremely durable shoes able to withstand rough treatment and heavy loads without compromising their integrity, such as work boots and hiking boots.
A. How Direct Injection Shoes are constructed?
A direct injection footwear production method comprising the steps of:
1. Place the footwear upper onto the last and adjust it to fit the mold.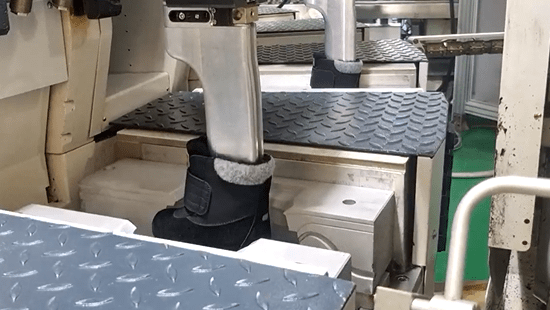 2. Close the mold to create a cavity between the upper and sole.
3. Move the injection molding insert tips to the mold injection channel.
4. Injecting molding material into the closed mold cavity until it takes the shape of the cavity, which forms the outsole.
5. Upon curing, move the shoes from the mold away.
6. Trim away any excess injected material that has been squeezed out or "bleeding" along the perimeter of the finished shoes.
In this method, the sole component permanently bonds with the upper after injection. Primer and adhesive do not need to be used throughout this operation.
B. Advantages and disadvantages of this type of construction
The major advantage of direct injection process construction is its durability;
the fact that all elements are fused through an injection means they cannot come apart during use as they would if they were glued or stitched together.
Additionally, because the molds are precisely made to exact measurements, there is less room for error and manufacturing defects, so you can be sure that every pair you purchase offers consistent quality across different stores and brands.
After the setup is established, it provides high production efficiency.
No adhesive or stitches adapted in shoes.
Due to the materials used in this construction method, mainly polyurethane, DIP shoes can be more lightweight and expensive than other types, like cemented shoes.
C. How to identify the DIP Shoes?
To identify if a shoe is made from the Direct Injection process, look for features such as a sole unit and upper fused in one seamless piece.
To further identify a shoe made from the Direct Injection process, look for the Mold Closing Line. This is a visible line that runs around the circumference of the sole near the bottom, indicating that the shoe was made in a mold and injected with material to create its shape.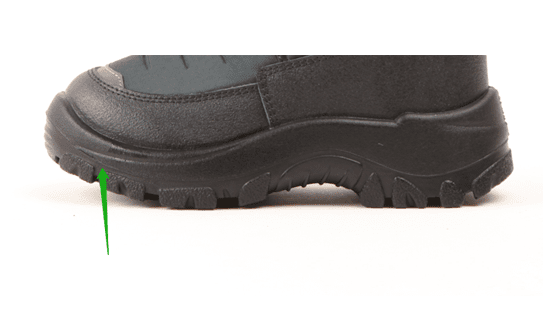 4. Vulcanized Shoe Construction
It's reasonable to assume that almost everyone has had a pair of shoes with vulcanized soles. This construction style is used by several companies that almost everyone is familiar with. It is among the first methods of producing sneakers with classic tailoring. Like Converse All-Star, which some regard as the first iconic sneaker.
Surprisingly, despite its antiquity, many people still try to get shoes in this design. Let's discuss this kind of sneaker construction, how it's created, and what advantages and disadvantages it might have.
A. The Vulcanized Shoe Construction process
In reality, "vulcanized shoes" refers to the process used to create the rubber outsole. Rubber is heated with certain chemicals during the vulcanization process, increasing its flexibility and durability.
1. Gather all necessary materials, such as the upper, rubber bottom outsole, perimeter rubber taps, and packaging.
2. Properly insert an aluminum last into the upper.
3. Glue and paste the midsole board to the bottom of the shoe's upper part.
4. Carefully stick on the sole, side wall tapes, foxing tapes, and heel label one after the other.
5. Use a pressing machine to press down the parts firmly to make all components fit together better.
6. Place shoes in a vulcanizing tank and heat them for between 60-80 minutes (temperature may vary depending on the material used).
7. Take out shoes from the tank and cool them for around half an hour afterward.
8. De-last the aluminum last from the shoe.
9. Clean off the shoes and pack them properly.
B. Advantages & Disadvantages of This Type of Construction
The process of constructing a vulcanized shoe has several advantages and disadvantages.
Advantages:
• Vulcanizing provides firm bonding between the upper, midsole, and sole components. This makes for a very sturdy and durable outsole.
• Vulcanization is cost-effective compared to other types of construction due to its fast turnaround time and low labor costs.
Disadvantages:
• Excessive heat can cause damage to some materials used, such as synthetic fabrics or leather.
• Some soles, such as foam midsoles, may not be ideal for vulcanization due to their sensitive nature toward heat.
• the sidewall rubber tapes easily crack or break down at the forefoot area over time due to long-term wear.
C. How to identify vulcanized shoes?
To identify vulcanized shoes, look for classic features such as a rubber sole with a flat bottom and visible seams. Additionally, the outsole should include evenly sidewall tapes, toe caps, front bumper, and heel tapes.
III. Which Is The Best Type Of Shoe Construction?
There is no simple answer to this subject.
If you're looking for a comfy, durable, and ready for all kinds of extreme activities, then direct injection shoes are the way to go.
Goodyear welted shoes are better if you want something more durable and long-lasting.
For people who want to create and wear quality shoes at a very affordable price, cementing shoes are the best choice.
If you want a traditional method that does not require a significant investment, then the vulcanized shoes are perfect.
Apart from these constructions, there are dozens of other different construction methods like storm welted shoes, Norwegian construction, Blake stitched shoes, Hand welting, etc.
IV. Conclusion
By exploring the features of each type of construction and understanding their advantages and disadvantages, you can become an informed buyer who is equipped to make the best purchasing decisions for your needs.
Take the first step towards making smarter shoe-purchasing choices by learning more about the different types of shoe construction methods today!